Club News
Scully has round of his life!
---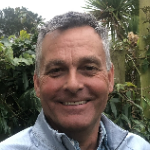 Jason Broadway
Head Professional West Cornwall Golf Club
West Cornwall Seniors are back into competitive action again, with four competions already played, the last of which was the second round of Golfer of the Year and returned some surprisingly good point scores.
Top of the scoring was Andy Scully who was in great form, winning this round with 46pts off a 16 handicap. Scully managed a magnificent 27 points on the back nine and said afterwards "My best back nine ever, anywhere and I think I could have putted with a blindfold and they would still have dropped."
He has been rewarded with a handsome voucher and a 2 strokes off his handicap. Runner up 3pts behind was Gary Barber who set an early target of 43pts and must have thought he had clinched it until Sully's second nine charge late in the day.
The first round of Golfer of the Year was won by Peter De Main with a more modest 37pts after countback from Brian Joy.
Other recent results saw Phil Thomas & Clyde Kevern win the delayed New Year Greensomes with 44pts while The Badger Cup was won with the pairing of Ryszard Zolkiewicz and Henry Kagan who achieved 47pts to stave off three other pairing on 46pts.
The Seniors Team face their first away match in a long time against Lanhydrock Golf Club next Monday.